Huntsville High School
Class Of 1981
In Memory
John Jaggard VIEW PROFILE
John Jaggard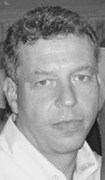 John Joseph Jaggard, 55, of Birmingham, passed away Monday, February 19, 2018. He was born October 7, 1962 in Woodbury, New Jersey to the late Dr. Clarence William and Sally Cecilia Jaggard. John attended Auburn University with a focus in chemistry and biology, which was very fitting for his scientific mind. This led him to work in research labs at the University of Alabama at Birmingham where he co-authored many articles in professional journals. John's brilliant mind led him to work in the computer science industry. During this period of his career, he worked as a software release scheduler, project manager, and a data analyst for corporations ranging from health care to logistical companies.
At the time of his death, John was the Director of Technology for Pace, a Logistical Company serving multiple regional facilities. His passion for excellence and attention to details enabled John to excel in his career. Music was an integral part of John's world. As a talented drummer, John played multiple genres of music in many bands throughout his life. This fostered his life-long friendships through his love of music. John was parishioner of the Cathedral of Saint Paul Church in Birmingham, Alabama. Here he served as a member of the Knights of Columbus Father James E. Coyle Council #9862.
John is survived by his wife of 20 years, Kimberly Russell Jaggard of Birmingham; their daughter Sarah; his sisters Susan Ottemiller (Dennis) of North Bend, OR, and Cindy Everett (Darrell) of Calgary, AB; brother Clarence (Vanda) Jaggard of Chesapeake, VA; and ten nieces and nephews. He is preceded in death by his father Clarence Jaggard, mother Sally Jaggard, sisters Sally Jaggard Killian and Sandra Sue Jaggard.
Funeral Mass will be at the Cathedral of Saint Paul in Birmingham, Alabama on Saturday, February 24, 2018 followed by an interment at the Cathedral Columbarium. All are welcome to a reception and visitation following Mass in the Cathedral Life Center. In lieu of flowers, the family requests that donations be made to the UAB Comprehensive Cancer Center, WTI 210, 1720 2nd Avenue South, Birmingham, AL 35294-3300.
Published in The Birmingham News on Feb. 23, 2018
http://obits.al.com/obituaries/birmingham/obituary.aspx?n=john-jaggard&pid=188260396
Click here to see John's last Profile entry.